Coming Halloween 2019 we have two shows for the family.
This August saw Dark Skies Cinema at Court Colman Bridgend with our our outdoor Cinema Experience showing The greatest Showman.
Pobl Music Festival August 19, we was so happy to provide this fantastic event helping the community a full backline package.
We have had a very busy start to 2019 with our third succesive year at Abercynon's Hot Summer party, 2nd year at Hireath Festival, ACDC tribute show, working with our sister company Dark Skies Cinema with providing sound and power for their Outdoor Cinema Events, our backline is flying out on a weekly basis, as well as filming on lots of exciting shows War of the Worlds, Tourist Trap, Brave New World, Sex Eduction, Industry, Discovery of Witches, His Dark Materials just to name a few.
If you have any queries dont hesitate to get in touch as we are never to busy to help you.
We have had backline out on the Sterephonics UK Tour 2018 with their support band Fireroad.
Back for a second year Abercynon RFC Hot Summer Party July 2018 with a full production package, and a deal to provide them for the next 3 years, awesome to be working with the team again.
Awesome new event Hiraeth 2018 in Builth Wells June 2018 are having a full backline package.
Pleased to announce that we are providing a sound and lighting package for Panasonic 100th anniversary event at the Swalec stadium Cardiff April 2018.
Cwmfest 2017 backline hire for thier annual event.
Providing Desk Op and Avolites Tiger Touch II on Deep State for FOX for their UK side of filming for this TV drama.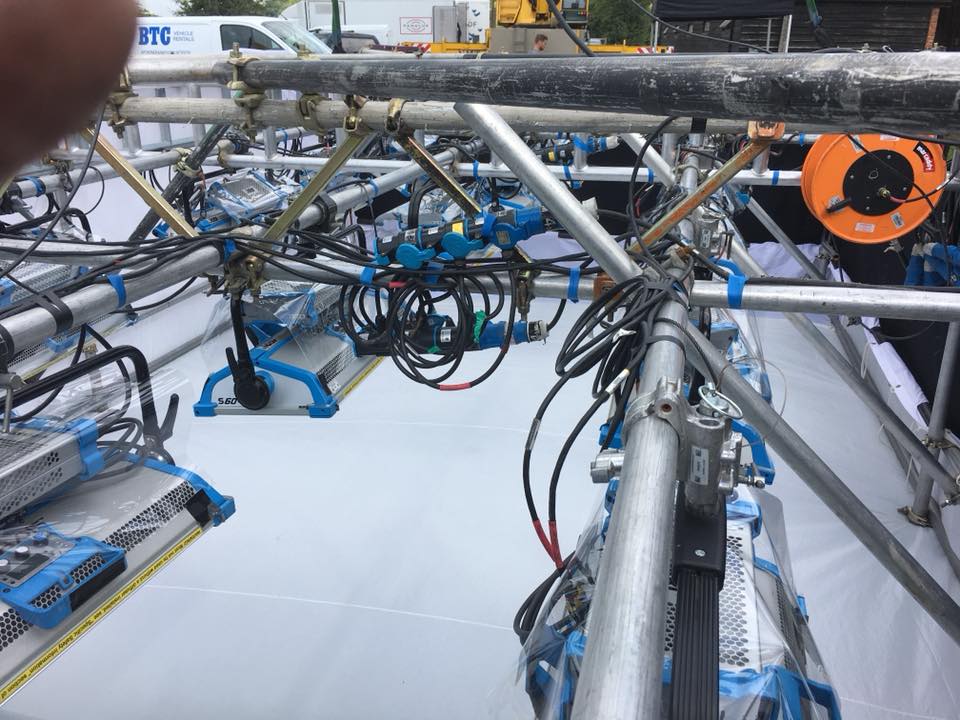 This is Quite Scary Productions first year providing a full backline Package for Merthyr Rising 2017, we look forward to working on future projects with this awesome team.
We are so happy to be joining a fantastic new event Abercynon RFC Hot Summer Party 2017, this is gonna become a fantastic summer event, full tech package, with sound impact report.
Providing an Avolites Tiger Touch II and desk op for BBC Wales Casulaty "Meth Lab Explosion" 2017
Planet Rock Wintersend 2017 are having a backline package for their new event.
Planet Rockstock 2017 backline on its way.
Returning for a second year at Planet Rock Rockstock 2016 with a full backline package.
We are so pleased to announce that Quite Scary Productions are providing Backline for Planet Rock Rockstock 2015.
Back again for the 2nd year at Bedlinog RFC Roc on the Rec 2015, marquee, staging ,pa, lighting, backline.
We are currently providing the Lighting Design, Desk Op & lighting package for S4C 2015 programmes. Johnathon, Nigel Owens Munud i Fynd & Dechrau Canu.
We are so happy to be back at the Olion Festival 2014, this year we have 6 marquees with lights, staging and pa in each, this years event is their biggets so far.
Excited to be providing the full tech package for the first Bedlinog RFC Rock on the Rec 2014, all under cover in a marquee, filled with some of the best covers bands around
We are very happy to announce the Quite Scary Productions are providing the full technical production management package for this years Olion Festival Sept 15th 2013, looking forward to be working with this awesome organisation.
Quite Scary Productions are working with True North Productions with providing Staging, Lighting for the Filming of MTV The Valleys for their "Valleywood" Shows .
Providing PA for this fantastic Skate Park launch in Newport Friday 21st Sept, get yourselves there for some tunes from Dirty Sanchez Lee Dainton & some serious Boarding .....
Olion Festival, Swansea Sept 16th, we are looking forward to our first event with these organisers, we are providing Marquee, PA, Lighting, Staging, Backline, Security, Generator & Event Management.
Returns again for its 2nd year the amazing Steel House Festival, we are providing the full Technical Production Management for this event , Staging, PA, Lighting, Generators, Barriers, Backline, Percussion, Backline Techs, we are also very happy to annouce that we have signed a 2 year deal with Steelhouse.
Full Backline & Percussion Support for this event in West Wales.
TigerTailz Video Shoot with our 26" Premier Double Bass Kit.
Marshall 4x12 Stacks for The Red White & Blues "Thin Lizzy" Tour 2012 & Download 2012
Providing Stage Management, Backline & Percussion for this amazing family event.
Competition Time ! Here's your chance to win a pair of tickets to see the amazing Black Stone Cherry @ Solus Bar Cardiff Tuesday 26th June 2012
Shows are selling out fast !!

Backline for Red White and Blues on the Chickenfoot UK tour 2012
Quite Scary Productions are providing the full tech package for this event ..
Quite Scary Productions have Started discussions with this fanatstic event and cause, to provide Staging, PA, Backline @ Chepstow Race Course June 25th - 27th 2010. Visit their website and make a donation.
more to follow.........
Quite Scary Productions are providing Backline / Percussion & Techs for this fantastic event that runs throughout May 2010.
The V Factor is a talent programme for young people across the Valleys. The aim of the programme is to inspire young
people and develop their talents ready for a celebration event each year. The V Factor is run by Bigfoot Arts Education and funded by the Heads of the Valleys Funding Programme and Rhondda Cynon Tafs E3 Programme.

Categories- 2010
Pupils will be competing for awards in the following categories:
Best Dance Act (includes contemporary, break dancing, street dance, hip hop etc)
Best Live Music Act (includes bands and singer/ songwriters)
Best Theatrical Performance (includes drama and musical theatre pieces)